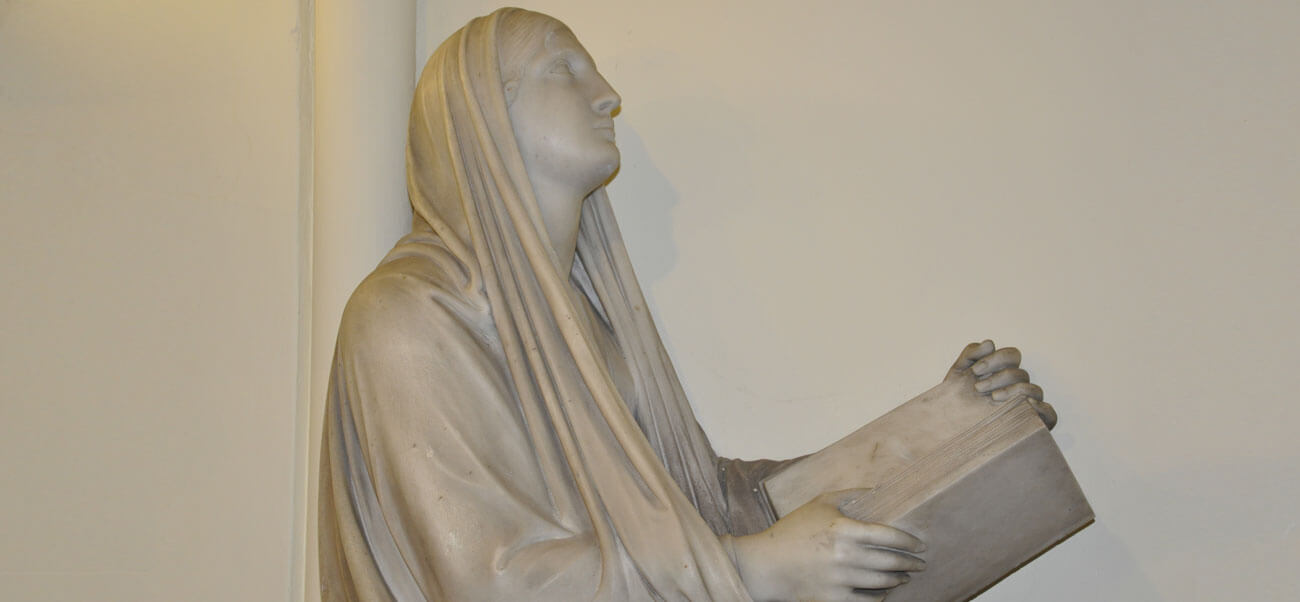 The church contains many memorials and monuments. They record the life of the Wortley family, the Earls of Wharncliffe and significant members of the community. Closer examination is recommended to fully appreciate the fine sculptures and records.
The Silk Sampler Work
This unusual memorial is to the artist Archibald John Stuart-Wortley who died in 1905. He was Founder and First President of the Portrait Painters' Society.
He was both a renowned artist and a musician. The silver plaque at the base has the words and music to the hymn "O God Our Help in Ages Past".
The embroidery was done by Archibald's sister Margaret.
Archibald is buried in the churchyard. His headstone has a carved artist's palette and paint brushes on the rear. The words on the front include 'When Earth's Last Picture is Painted' by Rudyard Kipling.
The Flaxman Memorial
In the south-east corner of the Chancel is a very fine sculptured memorial to Margaret Mackenzie, wife of the Honorable James Stuart Wortley Mackenzie. It is considered to be a very fine example of the work of John Flaxman RA. It was carved in 1808. John Flaxman was also responsible for the memorial to John Stuart Wortley in the Choir.
Other Memorials
Many other fine memorials are fixed to the walls of the Nave and Chancel. They record the life and death of members of the Wortley family and the family of the Earls of Wharncliffe. There are tablets in memory of members of the community and employees of Wortley Hall, the Seat of the Earls of Wharncliffe.